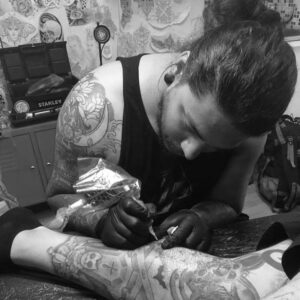 "In the heart of historic indiancities,amidst the temples,theatres and IT companies, we find AbhinandanBasu. A tattooer who has accepted lessons from an American ex-con , advice from his 83 year old grandmother and executed an almost nine-hour- long debut tattoo. Its safe to say that this guy doesn't play by anyone's rules." Skindeep tattoo magazine, November 2012 issue.
ABHINANDAN BASU or OBI as he is popularly known in the tattooing community , picked up the tattoo machine on one wintry December evening in 2007.And life has not  been the same for him ever since.
Born and bred in the historic city of Kolkata, Obi grew up around art in various forms and strongly believes that its this early introduction that helped shape his future artistic sensibility.
Notoriously footloose, he has worked in almost all major cities in India including Kolkata, Mumbai, Pune,Goa, Lucknow, Hyderabad. A traveler at heart, he feels travelling to new places and meeting new people helps him reinvent his art and his life.
However he moved to the beautiful city of Mannheim, Germany in 2016 and finally in 2019 opened Mantra Tattoo Atelier – his first tattoo and art studio.
A self-taught artist, His work has garnered him national and international acclaim and multiple awards for its uniqueness of design and execution.His work and interviews have been published in various tattoo magazines and publications in various countries like USA, UK, GERMANY, ITALY, SPAIN, SWEDEN, NETHERLANDS etc. One of his greatest milestones was achieved in 2015 when Obi was featured alongside 99 other tattoo artists from around the world in THE WORLD ATLAS OF TATTOO published by YALE UNIVERSITY PRESS and authored by noted tattoo historian ANNA FELICITY FRIEDMAN, which featured the top 100 tattoo artists from different parts of the planet.
Not one to be confined by genres , Obi practices almost all forms and genres of tattooing but he is most well-known for his custom tailored colored mandalas and geometric patterns. He is also the creator of Bongo style –which are his own set of designs influenced by various forms of folk art from West Bengal and Eastern Indian regions.
He believes that his progression and dedication to tattooing is fuelled by the extreme sense of gratitude towards the art form that took him from a neighborhood in south Kolkata to the upscale studios in Europe.
"To belong , might bring a temporary sense of relief but to un-belong furiously and continuously ,is Progression."  Obi